Life as an Alumni
Once you have witnessed real changes you created, you begin to think of broader impacts. We help you launch your high-impact career to continue your journey for positive change.
Your mission for education doesn't stop after the Fellowship. Once you have witnessed real changes you created, you begin to think of broader transformations. We help you launch your high-impact career through training, coaching and our professional network.
Our employer network help you launch your career
To support our Fellows launching their impactful career after Fellowship, we partnered with renowned companies across sectors dedicated to social impact. We connect our Fellows to our employer partners for fast-track employment opportunities so they can continue their journey.
Some of our successful Alumni
Management Trainee, Hang Lung properties | Fellow 2017-18
Upon completion of the Fellowship, Kelly applied the Hang Lung's Management Trainee program. Through our Employer Partnership with Hang Lung Properties, she was guaranteed a final round interview. To support and secure her employment, we provided interview workshop to prepare her for the recruitment process. She ended up receiving an offer from Hang Lung properties after her Fellowship.
Consultant, FDM Group | Fellow 17-18
Sam applied to the graduate consultant opportunity at FDM upon completion of the Fellowship. Through our partnership with FDM, we are able to provide Sam guaranteed interview with FDM and support to prepare for his interview, which leads to his employment with FDM after he completed his Fellowship.
Our Fellows go into all sectors after their Fellowship. We provide our Fellows with a structured career support system to transit them from Fellows into high-impact careers through mentorship and coaching, professional development training and career exposures.
Based on our Fellows' career aspirations, we create learning communities by connecting Fellows with similar career interest with mentors and coaches from our professional network. You meet and learn from our mentors and coaches, as well as having other Fellows as companions in the journey of realizing your career potential
Professional Development Training
Our Professional Development Fridays include sessions specifically geared towards career readiness for our Fellows. Previous sessions cover topics such as finding your dream careers, setting career goals and trajectory, interview workshops and resume clinics.
Career Exposure Activities
We invite leaders from government, business, technology and social impact sectors to share how they get to where they are. Our Fellows also visit corporate headquarters to interact with staff from all sectors and explore different career paths. We previous visited LinkedIn, Facebook, Uber, HKSAR Government, UBS, UOB, etc.
Our Corporate and Mentorship Network
Teach For Hong Kong provide you with training, coaching and access to professional networks to build your impactful career post-Fellowship. We partner with corporations and experts in career development to support you in building your impactful career after the Fellowship.
Our corporate partners and mentors come from:

Our 100+ Fellows community collectively lead in all sectors
Our Alumni continue to lead changes that they wish to see in our city after their Fellowship. They enter high-impact career paths in education, academia, business, technology, professional and social impact sectors. Our community of over 100 Fellows and Alumni often collaborates, leveraging each other's expertise and network to maximize their impact.
It takes systematic change in all sectors to reimagine a fairer education. The TFHK community, with our 100+ Alumni and cross-sector partners, is taking a collective leadership position to lead changes, hence reshaping the fabric of our city's tomorrow.
Breakdown of alumni pathways
24%
Business, Professionals or Startup
Karen Chung | Bridging Business With Education
Regional Business Development, ServiceNow | Fellow 2017-18
"Being a teacher is not a single route to contribute to education."
After the Fellowship, Karen decided to immerse herself into this multinational, technology company as she wanted to widen her exposure, internalize learnings from the workplace and build capacity in driving change in the future.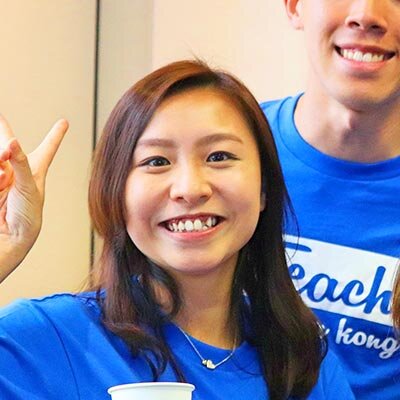 Janet Fu | Expanding Education Opportunities
Liberal Studies Panel Head, Delia Memorial School (Glee Path) | Fellow 2017-18
"Before the Fellowship, I am more of a follower. After these two years, I have become someone who wants to lead the first steps to change."
Janet realize that the local curriculum was disadvantageous for her ethnic minority students. She decided to take the lead in developing a low-cost IB curriculum at her placement school to expand education pathways for her students, hence equalizing the playing field.
Matthew Kwok | Pioneering New Solutions
Cofounder, Just Feel | Fellow 2017-18
"My friends around me are all earning big paychecks as lawyers. And yet, I want to do something for my next generation"
When Matthew was a Fellow he realized that children nowadays do not know how to understand and express their emotions. Therefore, he, along with his Fellow partner Raymond, launched a social impact startup focused on helping students learn Non-Violent Communication, hence bringing positive impact to education.
Karen Tsang | Fighting For Social Justice
Trainee Solicitor | Fellow 2017-18
"Building trusting bonding and having direct connections with my student is my biggest takeaway from the Fellowship."
Karen, as a law graduate, chose instead to join the Fellowship because she found witnessing children's changes and building relationships with them very rewarding. Even when she left the classroom after the Fellowship, she used her expertise as a lawyer to assist other Alumni's endeavors, including providing legal support for one of our Alumni's start-up.
Fei Cheung | Spreading STEM By Building Technologies
R&D Engineer, Kazoo Technologies | Fellow 2016-17
"Fellowship has profoundly impacted me through a broadening experience."
Upon the completion of the Fellowship, Fei continued his mission for education in the technology industry. He harnessed his expertise and know-how to forge equal STEM education for students in Hong Kong.
Your first step to leading change starts here
Next Recruitment Cycle Deadline: Dec 1 2019